Some of the best products that can help you get around town are electric scooters. With gas prices continuing to rise, it's not uncommon to see drivers purchasing electric vehicles instead of their gas-guzzling counterparts. Nowadays, the selection of electric scooters has exploded and it's gotten more difficult to pick which one will be the best option for you, your family, or even your business. we compiled a list of Top electric scooters in India for you.
1 . OLA S1 PRO
Ex-showroom price = ₹ 1,20 lacks
The Ola s1 pro is one of the top electric scooters in India. It has a top speed of 115 km/h and a range of up to 181 km. This e-scooter also features regenerative braking, which charges the battery when you decelerate or brake your ride. The bodywork on this model is made from fiber-reinforced plastics, which makes it lightweight yet durable at the same time. Other great features include LED lights for nighttime riding, a USB port for charging phones and other devices while on the go The Ola s1 pro is available in ten colors. Overall the Ola s1 pro provides high performance and excellent value for money. With its impressive features such as an efficient motor and high-quality components, it's no wonder why this scooter ranks among the best electric models on the market today.
---
2 . ATHER 450X
Ex-showroom price = ₹1.33 – ₹1.52 lakhs
The Ather 450x is one of the fastest electric scooters in India. It's stylish, and cool. Plus, it has a range of over 85 kilometers on a single charge. Its sturdy frame supports riders up to 175 kg and its peppy 400W motor gives you plenty of acceleration when you need it. The Ather 450X has a Four riding modes : Eco, Ride, Sport, and Warp. The Eco mode extract the maximum battery range and others are maximize the performance but reduce the overall range but with regenerative braking, your battery will last even longer. But if you're looking for something reliable and stylish without breaking the bank, this might be worth considering.
---
3 . SIMPLE ONE
Ex-showroom price = ₹1.10 – ₹1.45 Lakh
The Simple One has a range of 236 km on a single charge, making it one of the top electric scooters in India. It also has a 6.4 watt battery capacity, which is powerful enough to get you where you need to go without running out of juice. Plus the 4500 W motor is capable of reaching speeds of up to 105 km/h. The tubeless tyres make for a comfortable and smooth ride. It has a top speed of 105 kmph and a max torque of 72 NM. The Simple One also has fast charging, making it a great choice for those who need to get around quickly. One features a 7 inch touch screen display, Bluetooth and Wi-Fi connectivity and a push start/stop button. The Simple One also comes with a 3 year vehicle warranty and 3 warranty on Battery.
---
4 . TVS IQUBE
Ex-showroom price = ₹ 87,691 – ₹1.14 lakhs
TVS makes its first entry in the electric scooter market with iQuibe. It has a range of 145 km and a top speed of 82 kmph. The TVS iQube has a lithium-ion battery which can be charged in 4 hours. the TVS iQube comes with a 3-year warranty. iQube comes with features such as LED headlamp, USB charging port, all-digital instrument console, smartphone connectivity, etc. The design of the TVS iQube is inspired by the company's flagship motorcycle, the TVS Apache RTR 200 4V. Standard variant will get 5 inch screen however the S and ST variants features a much larger 7 inches screen. this E-scooter can accelerate 0-40 in just 4.2 Seconds.
---
5 . BAJAJ CHETAK
Ex-showroom price = ₹ 1,47,775
Bajaj has launched an electric scooter with the brand name Chetak which looks quite beautiful and purposeful. The Bajaj Chetak electric is one of the top electric scooters in India. It has a 50.4 V battery and a 4080W BLDC electric motor. The Chetak can reach speeds of up to 63 km/h and has a range of up to 90 km. The scooter also comes with features such as regenerative braking and LED headlamps. has a front and rear disc brake which can stop scooter in no time at all. Bajaj Chetak has available in Four different color. Where all other electric scooters we can get to see a plastic or fitted fiber body, the Bajaj Chetak comes with a completely metal body.
---
6 . BOUNCE INFINITY E1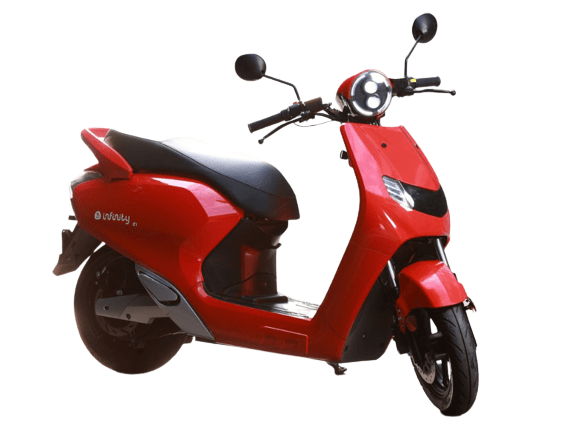 Ex-showroom price = ₹45,099 – ₹68,999
This scooter will defiantly stands in terms of look and design in his segment. The E1 has a removable battery. This means that you can charge it up at home or at work, and then take it with you when you need it. has a 48V battery capacity, 1500W BLDC motor, and removable battery. Plus it comes with a host of other features like front and rear disc brakes, LED headlamp, and digital display. and 1500W motor easily reach top speed up to 65 kmph. and battery can give range of around 85 km in single charge.
---
7 . PURE EV EPLUTO 7G
Ex-showroom price = ₹92,999
The epluto is a modern scooter with old classy retro taste design language. It has a 2.5 kw battery and 1500W motor, making it powerful enough to get you where you need to go. Plus with a max speed of 60 kmph and a range of 120 kmph, you'll be able to get around without having to worry about running out of juicecomes with techy features such as Smart lock, all LED lights, battery indicator, Blinkes, self start and more. this scooter comes with a three year warranty. As well as being easy to ride, this scooter also has an LED headlight and taillight so you can easily see at night. If you are thinking about getting into biking but want something a little more practical, then I would recommend checking out the Pure EV Epluto 7G!
---
8 . OKINAWA I-PRAISE+
Ex-showroom price = ₹67,022 – ₹79,845
I-praise comes in the list of most advance electric scooters in India.it features a brilliant design and graphics. with sharp body design this will instantly catch you attention, This tech boy can run as longer as 139 km per charge with top speed of 58 kmph . and powered by 3.3Kwh battery that sends power to 2500W BLDC motor. it connects with mobile via an app. which enables features like goe fencing and Road Side Assistance, ARAI/ICAT Approved, Immobilization and tracking, Micro- Charger with Auto Cut Function etc.