Rising petrol price is the thing that has brought you on the list of Top Mileage Electric Scooter in India. Electric Scooter is very budget friendly and also works as a great city commuting vehicle. Which will definitely impress you with their performance, low running cost and the maneuverability of these scooter which they are offering while driving will defiantly change your definition of "Scooter". In which we have made a list of highest mileage electric scooters in India which will help you to suck a good mileage electric scooter. So here we have the list of top mileage electric scooter in India.
top mileage electric scooter in india list
| Electric Scooter | Ex-Showroom price | Range |
| --- | --- | --- |
| Simple One | ₹ 1.10 – 1.45 Lakhs | 236 |
| Ola S1 pro | ₹ 1.37 Lakhs | 181 |
| Odysse Hawk Plus | ₹ 1.15 Lakhs | 170 |
| Hero electric HYX HX | ₹ 77,698 | 165 |
| Okinawa I-Praise+ | ₹ 1.15 Lakhs | 160 |
| Ather 450X Gen 3 | ₹ 1.39 Lakhs | 146 |
| TVS iQube | ₹ 87,691 – ₹1.18 Lakhs | 145 |
| Ampere Zeal | ₹ 74,489 | 122 |
| Ampere Magnus EX | ₹ 75,548 | 121 |
simple one
It would not be wrong if you call Simple One the prettiest scooter in our list of top mileage electric scooter in India. Talking about the charging time of Simple One, this electric scooter is said to have a company claimed charging time of 4 hours. But if you want to take a fast charger, then you will have to pay separately (Rus 15,499) for that, which will reduce the time of 4 hours to 2 and half hours. And a removable battery is also available in it, which starts charging only after I charge the battery. with all this comes the Clamed range of 236km. but real-world range will around 200km. so due to this high range, it is on No.1 in our of top mileage electric scooter list.
ola s1 pro
The Ola S1 series is not only the most popular electric scooter in India but also the best selling electric scooters. So in battery capacity, it gets 3.9kwh battery which can be charged with 5-Amp plug. Its 3.9 kWh battery is fixed so you can't take it out and charge it at home. It takes 6 hours and 30 minutes to charge with its regular wall charger. Which is normal considering its big battery but if you want to fast charge your scooter then it also has the option of fast charging. Which gives this scooter a range of 75km in 18 minutes of charge. And this scooter can give you a range of 18km in one single charge
odysse hawk plus
Odysse Hawk plus gets two batteries, one is fixed and the other is portable. Together these two have a capacity of 2.88Kwh. Which gives a good range of 170km. And this battery coupled with the 1.8V motor can propel the Hawk Plus to a top speed of 45 km/h. One cool thing is that you also get an in-built audio system with cruise control. One cool thing is that you also get an in-built audio system with cruise control long-distance. And that's why it is at number three in our list of Top Mileage Electric Scooter in India.
hero electric hyx hx (dual battery)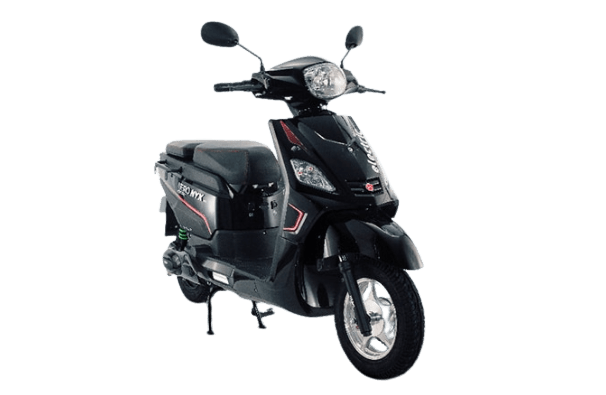 Hero Electric HYX HX is one of scooter that offers top range despite being the lowest price bracket on the price list. And this is the hallmark of a hero MotoCorp. Hero Electric HYX HX The comes with a 1.54Kwh battery pack which gives a range of 165km on single charge. and like the previous Odysse Hawk plus this also have similar top speed around 42kmph. Its design looks very functional and its elements are practical like dual-split seats In which two people can also sit and can also keep things like a delivery box or backrest by taking out the back seat.
Okinawa I-Praise+
The Okinawa I-Praise+ has a very stylish look and it also gets a fancy graphics on its body. And the styling has also been kept like a normal petrol scooter. The big headlight at the front gives it a very casual look. Coming to the capacity of the battery pack, it gets a 3.3Kwh Lithium-Ion battery pack which is mounted on the floor. Which gives this scooter a range of 139km in a single charge. While with this battery pack and its 2.5W motor, this scooter can achieve a top speed of 58kmph.
ather 450x gen 3
The new Ather 450X Gen 3 has been recently announced with some major changes like a bigger 3.7WKwh battery which was earlier only 2.9Kwh. In which earlier the range of 106km used to come, which has now increased to 146km which is a difference of about 40km. With its 6.4W motor, this scooter can catch the speed of 0-40 in just 3.3 seconds which goes up to 90 low top speed. And it takes 4 hours and 30 minutes to charge 0-80 percent. while 0 to 100% would take 5 hours and 40 minutes.
tvs iqube
iQube is The only electric scooter from TVS. Which was first showcased in 2012 as a concept. The iQube comes with a 4.56Kwh lithium-ion battery that is fixed to the floor. And this battery pack draws power from the 4.4W BLDC motor which has the capability to take this scooter up to a top speed of 82kmph. And also gives out the range of 145km in single charge. It takes 4 hours and 6 minutes to charge it 0-80 percent but if you want to charge it fast then you will be a little disappointed. Because despite being an Premium category electric scooter, there is no fast charging option in it. But hope this gets given in the future facelift
ampere zeal
The Ampere Zeal is one of the few electric scooters that offer more specs and features at a lower price and more value for money. The scooter looks good too. It doesn't look like a budget scooter by any means. and Due to its wide body, it looks quite bulky and elegant. The Zeal gets a 60V Lithium-Ion floor fixed battery pack. Which gives power to 1200v BLDC motor with which Ampere company offers 3 years warranty. And with the motor and battery combined, this electric scooter can achieve a top speed of 50kmph and the range is about 120km. Which is very good for its price and in comparison to other e-scooters coming in its price.
ampere magnus ex
The Ampere Magnus looks very much like a conventional petrol scooter. But the sticker of "electric" on both sides of its front will always remind you that you are driving an electric scooter. Ampere has given a 60W battery pack in the Magnus, with the help of which this scooter can travel up to 121km in a single charge. With a motor of 1200W-2100W, this electric scooter can achieve a top speed of 50kmph without a doubt. but when i comes to charging time this thing takes a lot time it takes 6-7 hours to go from empty to full charging. Unfortunately you have to wait till it's charging because Ampere doesn't offer fast charging support in Magnus Ex. Although it's acceptable considering it's price.
also read : Tata electric cars in India
conclusion of top mileage electric scooter in india
So these were the top electric scooters in India that you can buy now and move around without worrying about the range. But in this changing time every day new vehicles are coming in the market and as soon as there is a next long range scooter we will include it in this list.
also comment below which one you like most ? just curious !