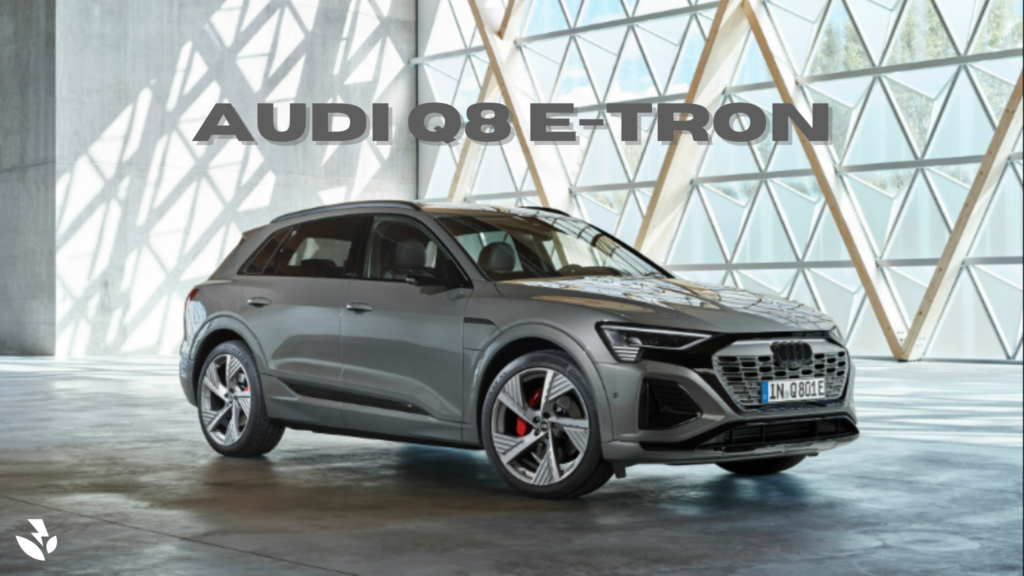 Audi unveiled the e-tron as a concept car at the 2015 Frankfurt motor show. Later in 2018 it's final production model was officially revealed at San Francisco. The new Q8 e-tron is nothing but a facelift of Regular e-tron. The Q8 Nameplate allows it to enter in Audi's flagship Electric SUV line-up.
Audi Q8 and its Sportback version also got Exterior and Interior changes. Adding to this, Q8 e-tron will also get Audi's new Redesigned Four-Rings Logo.
Audi Q8 E-Tron: Exterior
The exterior is familiar Audi design which we have seen in e-tron and other Audi SUV line-up. Including ICE (Internal Combustion engine) SUVs. There are some changes over the Regular e-tron like The new two dimensional Four-Ring logo, An new design front grill (which is open somehow, this is not the thing which we normally see in electric cars) That Cowl by piano black Stip.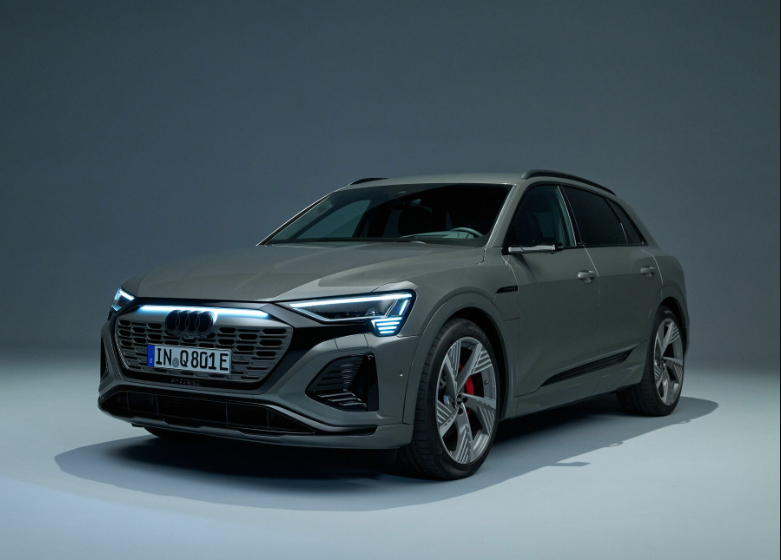 Also there is an LED light bar at the top edge of the grill that looks very good and casts glow on grill and Logo. The side remains almost similar to e-tron, and just like the e-tron it gets camera pods. But sadly we'll get normal mirrors in India. We have two Body styles: the SUV and Sportback. Unlike the front Rear, which has very minimal changes, LED tail light strips That cover the whole rear width are still there with integrated spoiler on top.
Audi Q8 E-Tron: Interior
The interior is very similar to the OG e-tron, nothing has changed in terms of panel and the overall design. Expect some new trims and colour, which brings a fresh look to the cabin. As being an Audi, it has a Virtual Cockpit that adds a very techy feeling to the front cabin with those three screens. and two mini screens that show camera view and work as an ORVM.
Being a Fully electric car it doesn't have any center tunnel or bump on the center, So the three people can comfortably sit in the rear with Individual Headrest. Boot space is also good enough, with 569 liters for the SUV and 528 liters for the Sportback. Also there's 62 liters of front storage space or 'frunk'.
Audi Q8 E-Tron: Battery And Charging
The battery capacity and increased range is the biggest update from the earlier model. Now the SUV variant comes with 95kW battery and Driving range up to 300km to 347km. With the Sportback to 491km to 505km in single charge. And the new 55 versions get a battery pack of 114kW which has a range from 411km to 446km in SUV and with Sportback it's from 582km to 600km. Not just bigger batteries and high range but the Battery Management system is also improved from previous models.
Charging time varies with battery size and charging speed, with 11kW AC charger, the 55 will take 11 hours and 30 minutes to fully charge, while 150kw DC Fast Charger just takes 30 minutes to charge from 10 to 80%.
Audi Q8 E-Tron: Power And Acceleration
Both 50 and 55 get dual-motor set-up, which makes 340Hp in 50 and 408hp in the 55 version, However both variants get the same amount of Torque 664NM. Despite Being 2,500kg heavy, The 55 can sprint 0 to 100 kmph in just 5.6 Seconds and 50 can accelerate in 6 seconds. There's one more variant called SQ8, which is able to sprint in just 4.5 seconds, Thanks to its tri-motor set-up that outputs 503hp and 973NM of Max Torque. With a claimed Top speed of 200 kmph.
Audi Q8 E-Tron: Expected Price & Launch
it's Expected to launch in July-August 2023, with the starting price of 1.3 Crore (Ex-Showroom).
audi q8 e-tron highlight
| | |
| --- | --- |
| Expected Price | 1.3 Crore (Ex-Showroom) |
| Battery Capacity | 95kW to 114kW |
| Range | 300km – 600km |
| Charging Time | 11 hours and 30 minutes with 11kW AC Charger |
| Motors | Two Options: dual-motor and Tri-motor set-up |
| Top Speed | 200 kmph |
| Expected launch date | July-August 2023 |